Jindal Neu Color +

Jindal NEUCOLOR+ is an advanced technology enabled color steel sheet for the building and construction industry best suited for applications that demand high durability.
It has been designed to provide the legendary strength of Jindal steel combined with better aesthetics for that awesome visual appeal.
NEUCOLOR+ COLOUR COATED COILS & SHEETS Technical Specifications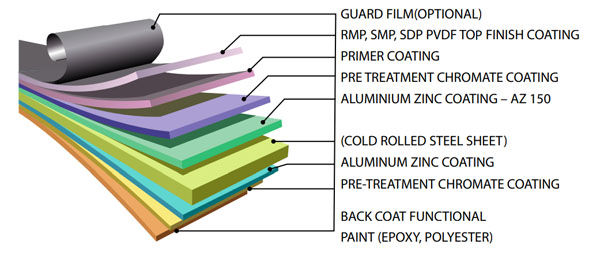 Thickness Range
0.20 mm – 0.90 mm
Width Range
900 mm to 1440 mm
Coating
AZ 150
Base Substrate
Alu Zinc coated Steel
Primer
5 microns top , 5 microns back side
Top Coat
20 microns
Back Coat
5 microns
Colours
Top Coat - All colors as per customers requirement Back Coat – Jindal Grey ( RAL 7035)
Paint System
RMP, SMP, SDP PVDF TOP FINISH COATING
NEUCOLOR+ COLOUR COATED COILS & SHEETS
NEUCOLOR+ is a premium product from Jindal (India) Limited, designed to have a longer product life. The superior technology that is used for painting NEUCOLOR+ includes SMP, SDF and PVDF in addition to RMP. This special coating makes the NEUCOLOR+ product last for years together.
HIGH DURABILITY
Higher corrosion resistance makes Jindal NEUCOLOR+ suited for applications where high durability is required for both roofing and wall cladding. Its excellent all weather character makes it an ideal choice for premium projects which have to look good and last long.
LESS ENERGY REQUIREMENT
The special coating on Jindal NEUCOLOR+ helps absorb less heat resulting in keeping the space below more insulated from direct sun. This translates into lesser energy consumption. The maximum temperature of the roof also goes down significantly.
ARCHITECT'S & USER'S DREAM
NEUCOLOR+ is a dream product for architects, builders and owners offering a strong and aesthetically pleasing product for any type of building and conditions. Its very versatile and lightweight making it an ideal choice.
Resistance to Colour Change
The unique composition of the paint includes SMP, SDF and PVDF in addition to RMP that do not break down easily even under severe UV radiation, thus preventing fading and chalking and long usage.
Wide range of Colour Choices
NEUCOLOR+ is available in a wide range of colours to match the architects, builders, and owners creativity. These eye catching colors create a look that makes it stand out.